Workouts, Auction Sales & Daily Handicap
Existing Subscribers
Bruno
WithTheWorks

Log In

Please enter your registered email address and password below.
FQLLQW the Horses NEW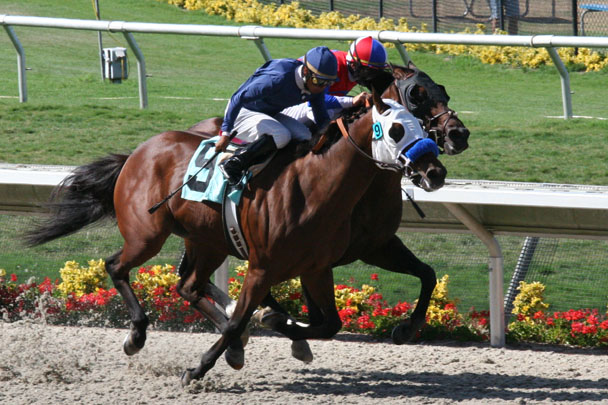 Create a list of horses and get notifications on new Works, Entries and Handicapping Reports
Don't have a subscription?
Get access to our entire workout database, auction sales comments, and daily handicapping sheets with your all-inclusive subscription.
Workout Database
2010-2018 Works. We have the workouts from across the country and updating every racing day from across the country with our own observations from our staff in Florida, Kentucky, New York and California. Additional workout info via our own exclusive workout rankings.
Auction Sales
Racingwithbruno participates, either as seller or buyer, at most auctions during the year for more info contact Bruno at Racingwithbruno@aol.com
(samples of past reports available)
Handicapping Sheets
California Chrome lifetime WiththeWorks
WORKOUT REPORT
Jan 21
GP
b
58.8s
5f:~Chrome is Chrome, he went off with ears prick with Gldaney sitting chilly against him, he turned for home and got a tap on the shoulder after first three in 35.1. Finished strongly in 58.4 and 112 flat. He will make his last work a memorable one and in his style. Almost perfect
Jan 14
GP
b
1:00.72s
5f:~Excellent in flesh here for Sherman with Gladney in the saddle, his regular rider. Little keen early really working from the 4 and 1/2. Ears up likee we have been accustomed to seeing. On cruise control going in 100.3, 114 and out a mile 128.4 and 141 flat for a mile.
Dec 10
LA
b
1:00.6s
5f:~Worked strongly without blinkers and did things very easily, big finish and strong gallop out. It looked like another 5 star work from him
Dec 3
LA
H
1:00.4s
5f
Nov 26
LA
H
47.4s
4f
Nov 19
LA
h
48.4s
4f:~Really like how Chrome works without blinkers, much more relaxed and was moving easily here.
Oct 27
LA
h
1:12.1s
6f:~Worked 5f to the wire and finished out an additional furlongs in 13 flat. Finished well and looked OK with blinkers on. Looking forward to see him next week at Santa Anita
Oct 22
LA
b
1:00.4s
5f:~Added blinkers and finished in full stride after official splits of 25.1, 48.3 and 100.2. Finished in 113 flat. Thought was working harder than he should here. Can't wait to see next work
Oct 15
LA
H
48s
4f
Sep 24
LA
b
1:13s
6f:~With Dihigi Gladney up he looked wonderful, great coat and flesh. Worked in 25, 49, 101 and 113 and 126 and change officially. Outstanding action and never asked. Looks superb.
Sep 17
LA
b
1:13.2s
6f:~Dihigi up and this work showed his soundness, his sharpness and just oozing class. Wow, it was how he did it and the hold Gladney had him. Went in 12's across board, finishing in 101, 113, this is a 5 star work.
Aug 14
LA
H
1:00.2s
Jul 16
DMR
B
59.1s
5f:~He came out before the break in front of a crowd of about 300 people to see him work and had the track pretty much to himself and Hard Aces who are both working for the San Diego Handicap. Worked from the 5f pole doing splits 23.4-35.4-59.1 breezing then galloped out a EZ 6f in 113 flat looking ready.
Jan 2/16
SA
H
1:10s
6f:~I Haven't seen a workout as good as this one in quite some time with Chrome working here just before the first race at 11:45am with Espinoza up rattling off fractions 22.3-46.3-58.1-110 flat finishing effortless and galloping out a very solid 7f in 122.4 looking VERY READY.
Dec 27/15
LA
h
1:25.4s
7f:~
Dec 5/15
LA
h
1:01s
5f:~
Nov 28/15
LA
h
48.4s
4f:~
Feb 5/15
SA
H
-
GallopedLooked the part here galloping over the SA surface today traveling very sharp. Was on his toes on the way back to the barn looking as good as ever.
Feb 1/15
SA
h
1:01.6s
5f:~I get the feeling that Chrome's slow works are a product of his fast gallops between works. He is not working in California manner but more East manner. He looks great with tons of flesh and color. I think the San Antonio is not Sherman's goal. Splits of 25.1, 49.4 and 101.3 according to Los Al Clockers. He should run very well but he won't be at 100%, that's down road and its a long year.
Jan 25/15
SA
h
1:41.2s
1m:~Sherman is leaving something in the tank and he finished well and steady for a mile work that looks more like a glorified gallop. Chrome must be getting more from gallops between works and he comes out of works well, thus being back in 6 days.
Jan 19/15
SA
h
1:27.2s
7f:~Sherman just let him gallop wide around the track as he did in next two drills. He hasn't brought him near rail which means he wants a slow work. Big gallop out. Main goal is not San Antonio.
Nov 27/14
DMR
(d)(36
-
Gallop:~I saw something completely different in Chrome's gallop. He once again dropped weight and reverted to pre-Penn Derby body language. Rider had a strong hold but Chrome kept shifting body weight to his right, you can see it in his head placement. He also took couple of funny steps behind pulling up. To my eyes it signals he may have gotten a bit jammed up on the turf. Have seen it here on East Coast when horses train on a hard turf and have seen it in my own horses. I am not comfortable with what I saw in the gallop.
Nov 23/14
DMR
(d)36
52s
4f:~Much was made and expected from this work, but in reality it was just for Sherman to feel comfortable that Chrome had a feel for the turf under feet. It wasn't a speed drill, speed drills on turf tell you nothing of turf prowess. Handled it well,

looking very good

with good body weight, carrying over the form we saw in last drill. Time meant nothing here and handled it well actually seemingly having a good time
Nov 17/14
LA
b
47.8s
4f:~This is the best we have seen Chrome since the Preakness. He carried extremely good flesh and coat, an improvement from what we saw at BC14. He looked excellent, head cocked, a Pulpit trait, and then bounded past the wire, he looked amazing, and seemed to be really thriving. We have been tough on this horse since Preakness, but this is the best we have seen in the easiest 4f work we have seen in some time.
Oct 28/14
SA
-
gallop:~Was a bit fresh in his gallop, tried to take off some horses who were galloping past him, but settled and went around OK, cocking head to the right enough for us to notice. He looks light and not carrying the same flesh he had at Churchill and Pimlico.
Oct 25/14
LA
h
59.4s
5f:~Wide off the inside, never dropped down to rail and was in hand here. He doesn't carry the weight we saw during the Triple Crown. Not sure he's the same horse
Oct 18/14
LA
h
1:12s
6f:~Don't like how he travels behind, he is lighter and not as willing as he was prior to Preakness. We thought he started to go into the Belmont and there isn't much change. He was under a good hold here but will really need to see him gallop into Breeders Cup. Right now, he is a toss.
Oct 11/14
LA
h
59.6s
5f:~Very wide off the inside and under a hold almost carbon copy of work the following week, OK, he doesn't jump off the track at you.
Sep 13/14
LA
h
1:13.8s
6f:~Seemed to be going easy but took a bit to warm up and finished with lather on shoulder and just OK per his standard. He looks OK but not what we saw into and out of Derby
Sep 6/14
LA
h
1:10.1s
6f:~Worked between races and went in hand after a bit of a clash with the pony split of 59.1, and finished six furlongs. A bit hot and could have traveled better behind. Average for him
May 31/14
BEL
b
47.61s
4f: ~as far as a work this was a Blueprint for how its supposed to be done. Went in 12.1, 24.4, 47.2, 59.3 and 112.2. Galloped out nicely 7f and a mile. He gets 4 stars on how he did it mentally and physically.
May 13/14
CD
-
Gallops: ~Chrome continues to give the same impression he gave us before the derby. Sometimes he is not the most fluid mover but he obviously go the job done. He has been all business in his gallops at CD since the Derby. If I had one knock on him, however, it would be the hind end. When he got to CD before the Derby the hind end was full and robust, looking very powerful. To me, it does not look the same but this could be attributed to him still recovering from the race. If the look he had before derby comes back in the days leading up to Preakness then he will be tough to beat.
Apr 26/14
LA
h
48.2s
4f: ~Thought this was better than last time going an easy four furlongs. Broke away from pole in intense manner with ears straight up, then settled down and was flicking ears around waiting for a command from Victor. Strode nicely to wire and went out an additional furlong without any urging. He did it very easy
Apr 19/14
LA
h
47.4s
4f: ~I was taken back by his ears straight up in the air the entire way, this is not something you see a lot and it's a different kind of animal that has this strait. He is an intense horse and acts like it. He may be one dimensional and a different type of personality when in between or around horses
Apr 3/14
SA
H
-
Galloped here today on the main track. Looks sharp and ready.
Mar 29/14
LA
H
46.2s
Mar 22/14
LA
h
47.4s
4f:~Victor Espinoza in the saddle and went in 47.2 looking good here. He carries good weight and flesh a sign of a thriving horse.
Mar 6/14
SA
H
-
Galloped today on the main track looks real sharp and fit.
Jan 18/14
BHP
B
1:01s
5f:~ left the 5/8 pole and went in 36.4 early on. Finished up under a giant hold through the lane in 101 flat looking to have a full tank.
Dec 13/13
BHP
H
1:12.2s
Oct 24/13
BHP
59.1s
5f:~Asked to run and responded here with sharp 59.1 try. Good
Oct 10/13
BHP
1:12s
6f:~Seems to lay his body down every time. Went in 36.2, and 111.4. Finished final three furlongs in 35.2. Responded to being asked to do more. Willing
Jun 6/13
BHP
H
59.1s
5f:~ left the pole and went in 35.4 to the top. Continued to travel well finishing up through the lane in 59.1.