Workouts, Auction Sales & Daily Handicap
How to Order from Racingwithbruno or Brunowiththeworks.
You DO NOT need to be signed in to purchase credits or subscriptions.
Racingwithbruno Tips of the Trade #4: FQLLQW THE HORSES
Use the "Add a Horse" or "Add a Track" link below to add a horse by name to your list.
You can choose what type of nofications you want to receIve for each horse, such as: New Workouts, Upcoming Races, Reports Available
Use the button to make changes to the types of notifications you want to receive, or to turn on/off the active status of all notifications for that horse.
At the bottom of the page, make sure your email address is correct so that you can receive the notifications that you expect.
The most recent workout, and the next race is shown for each horse below for your convenience.
Racingwithbruno Tips of the Trade #2
DO NOT RELY SOLELY ON RANKINGS OR RATINGS.
We spend time writing notes and comments on works, all 4 star works with comments we witnessed ourselves. All 4 star works without comments are the Workout Rankings based on our version of the Workout Rankings daily.
Click on more info for information on the Workout Rankings
Racingwithbruno Tips of the Trade #3: The Delta Figures
DELTA Figures are a combination figure that takes into account four standard handicapping proprietary tools — but all of that is controlled for the conditions of the actual race in question. The Delta Fig is a current form tool. The lowest the Delta Fig the better.
Delta Sheets, Handicapping Sheet and WiththeWorks
Be SMART Save your Files from the START!
We update workouts 24-32 hours in advance of racing day for Works, Delta Sheets and handicapping sheets inside of 24 hours. We have Delta Sheets across the country. Sheets consists of a program enhanced feature with Delta Figs and latest positive work. The Delta sheet cost one (1) credit for credit users. The "Handicapping Sheet" will continue to have both Delta Sheet with picks and full workout report. Any question write to Bruno@Withtheworks.online
Racingwithbruno Tips of the Trade #1
Follow along here for some tips and treats on how to better your handicapping Skills:
1.) Read thoroughly, not just ratings or whether a horse is picked 1-2-3. Horseplayers have become engrossed and obsessed on the selection order and lack the patience and attention to detail of reading thoroughly through the analysis for any clues or tidbits of info the authors are trying to relate.
Existing Subscribers
Bruno
WithTheWorks

Log In

Please enter your registered email address and password below.
FQLLQW the Horses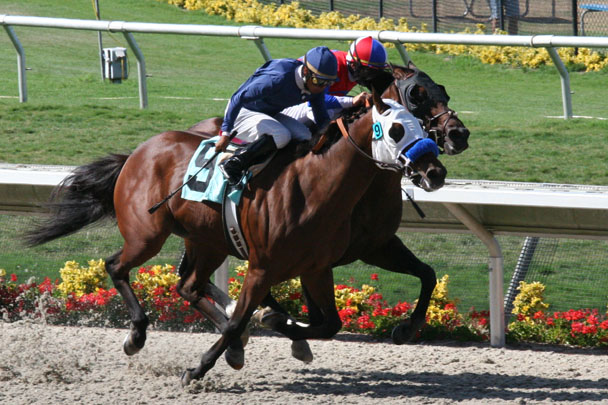 Create a list of horses and get notifications on new Works, Entries and Handicapping Reports
Don't have a subscription?
Get access to our entire workout database, auction sales comments, and daily handicapping sheets with your all-inclusive subscription.
Workout Database
2010-2019 Works. We have the workouts from across the country and updating every racing day from across the country with our own observations from our staff in Florida, Kentucky, New York and California. Additional workout info via our own exclusive workout rankings.
Auction Sales
Racingwithbruno participates, either as seller or buyer, at most auctions during the year for more info contact Bruno at Racingwithbruno@aol.com
(samples of past reports available)
Handicapping Sheets
#WiththeWorks With Racingwithbruno & Friends
Tune in and Copy this Link to Subscribe
We talk Delta figures and how they fare at each track currently running. We discuss the enlightening results

We have a handicapping discussion with Michael Beychok, 2012 NHC Champion, about Fair Grounds, and Oaklawn. Join us.

Part II of our Handicapping discussion with Barry Meadow & Jude Feld

We talk to Barry Meadow and Jude Feld about handicapping. 

From Racingwithbruno and staff we wish you a Merry Xmas and a Happy Holiday Season

Ron Flatter and I chat about track tendencies, post positions, stats loopholes and more

Ron and I, do that thing we do, chat about horses,

We discuss Derby Futures and analyzing races mindset and decision making.

We talk about PEDS, a conversation that needed to be had and more

How do you top Breeders Cup Weekend? We have to get through the BC lag and look forward to the rest of 2020.

Ron Flatter talk about the Breeders Cup draw and more.
---
Tweets by @Racingwithbruno
NEW Zoom-Based
Handicapping Classes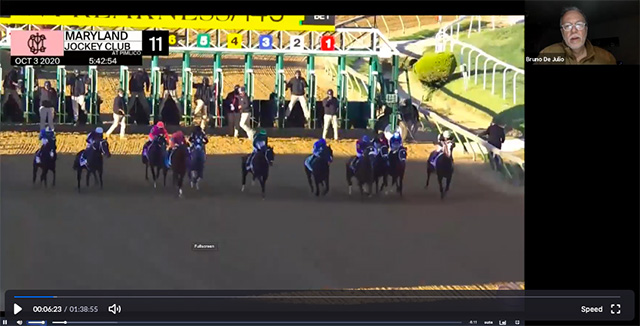 Justify lifetime WiththeWorks daily notes
Workout History
| | | | | | | |
| --- | --- | --- | --- | --- | --- | --- |
| DATE | TRACK | NOTE | TIME | RATING | RANK/MATES | COMMENTS |
| Mon Jun 4th, 2018 | CD | b | 1:01.4 | | 9 / 15 | He gets 5 stars on looks alone. He touts himself physically, its hard to ignore him or make any case the road to the Triple Crown has been hard on him, the dismay of some who are demanding to bet against him. We feel he has gotten stronger since Preakness. He went from the 4 and 1/2 pole with Martin Garcia on board. Splits of 12.4, 25, 37.1, 48.4 and 100.4. Finished out in 113.3, 127.1 and pulled up in 142 flat. He came home for 23.4 for both the the half mile and 5f times. Finished strongly and ALL ON HIS OWN. He simply looks super. |
| Sun Jun 3rd, 2018 | CD | b | 0 | | - / - | Justify's gallops have hinted on his readiness to work and he went very leisurely this morning in 10 furlong gallop: 21.1, 20.1, 19.2, 19, 20, 18.3, 18.1, 17.1, 17.1, and finished in 16 flat. What makes this guy so good is he can shut down and go on cruise control |
| Tue May 29th, 2018 | CD | b | 46.8 | | 1 / 43 | He looks the part and crried excellent flesh out of the Preakness. You can't knock him physically. We took him from the 4.5 pole in 12.4, 24.1, 36, 47.2 and 59.3. His internal splits were 23.1, 34.3 and 46.4. which are indentical to the official times. He galloped out in 114 flat. He looks super, no way anyone can knock him. |
| Mon May 28th, 2018 | CD | b | 0 | | - / - | set the work on the 29th with this gallop. He galloped 10 furlongs, going in 18.3, per furlong, 16.2, 16.4, 16, 15.4, 15.4, 16.1, 16.1, 16.1, and finished in 15.3. Baffert told me after work by text, 'he galloped like he's ready to work'. He picked up his splits after the first furlong. If they gallop well they work well, Baffer taught me that 20 years ago. |
| Mon May 14th, 2018 | CD | G | 53.8 | | - / - | Galloped at Churchill Downs and could have easily have been given a half mile here for Baffert. We picked up from 3/4 pole and gradually picked up his splits poer each furlong. From the 1/2 mile pole in 14, 27.3, 40.1 and 53.4. Galloped out in 107.2, but he was really going a mile and one eight gallop. He looked impressive physically and moved very well throughout. Compared to what i have seen in some other Derby horses exiting the Derby, he looks like a million bucks. |
| Fri Apr 27th, 2018 | SA | h | 1:25.2 | | 1 / 1 | this the most relaxed Justify I have seen yet. Started a few behind maiden Longden. Worked in 24.3, 36.2, 48.2, 100.3, 112.3 and 125.1. Went out a mile in 138.2. He was as cool as a cucumber. This work tells me he has physically thrived as well as he has mentally grown. Finished strongly and went out. He touted himself today |
| Sat Apr 21st, 2018 | SA | h | 1:13.2 | | 4 / 16 | JUSTIFY couldn't look any better right now and was best over stablemate ZIPMAN, who isn't much. They went from 5.5 pole in 25.4, 50.1, with Justify extending super in 113.4 and out in 126.4. Finished out a mile in 142.2 with Drayden Van Dyke up. Let's address one thing and that is stupidity on social media about Justify not cornering well. he is placed 4-5 wide on the turn to not engage horses and eye ball them too early in an effort to relax. this is why you read our reports, not the nonsense on social media. |
| Mon Apr 2nd, 2018 | SA | h | 1:13.2 | | 2 / 8 | JUSTIFY worked with HOPPERTUNITY. Baffert set him up behind a dead closer, to give him confidence and most of all not have him get too speed crazy. Baffert had Justify sit wide, three lanes or more off Hoppertunitys hip. Justify was locked up to not move until rider asked. He even floated wide to keep Justify from wanting to run up to Hoppertunity. The work was completely run by design. He was let run a bit down the lane and finished well going by Hoppertunity through the wire in 101 and out in 113.1. Perfect drill set up and by far his best mental drill we have seen. |
| Mon Mar 26th, 2018 | SA | h | 59.6 | | 2 / 118 | Worked with small Giant's Causeway maiden who doesn't look like he is bigger than a yearling. Was kept off the mate to relax but he was pulling like a need the lead pace presser. Went in 48, 59.3 and 112.3. Strode past the mate and galloped out. His work was good. Not great. He is flashy |
| Tue Mar 20th, 2018 | SA | h | 46.4 | | 1 / 105 | JUSTIFY on the outside breaking lengths back of stablemate DR DORR tracking to the top of the stretch then running down the mate working through splits 23.4-46.2 dragging rider and 5f in 58.3 with Garcia in the saddle. He does pull hard and wants to be to be pressing |
| Mon Mar 5th, 2018 | SA | h | 1:00.8 | | 31 / 114 | JUSTIFY and NERO in 13.2, 25, 100.4, 113.4 out in 126.1 and 139 flat for a mile. Nero only went to the wire and no out, tried to kick back but no match. Justify really did well with a phenomenal, flashy gallop out. |
| Mon Feb 26th, 2018 | SA | h | 1:01.4 | | 33 / 55 | Stunning specimen worked from the 4.5 pole to past the wire to the 6.5 pole, in 25, 37, 102 and 114.4 on our watch. Excellent mover, big bodied quick atheltic type |
| Mon Feb 12th, 2018 | SA | hg | 1:13.8 | | 4 / 14 | Looked good from the gate working with company 101.1-113.4 hand ridden late with Van Dyke in the saddle. |